2008 Meader Family Reunion
Book Writing has its Privileges —
My Day at the Meader Family Reunion
By Rusty Goe

The craft of writing offers many rewards. One of which is the opportunity afforded me to meet people whose paths I never would have crossed. Ever since my first book, The Mint on Carson Street,, debuted in late 2003, I've met many people who learned of me because of it: new clients, attendees of my lectures, individuals with information to share or with questions to ask, and many persons who simply wanted me to autograph copies of my book. It's been mostly a pleasurable experience meeting all these people: especially the ones who've become good friends.
The release of my new book on Carson City Mint superintendent James Crawford in 2007 (James Crawford: Master of the Mint at Carson City) has resulted in a whole new wave of fond connections. I'll never forget the heart-pumping phone call I received in October 2007 from a distant descendant of the James Crawford/James Sheppard family line. She had heard about my book on the Internet and expressed her enthusiasm over obtaining a copy. This initial encounter led to a face-to-face meeting with her and her 90-year-old father, who happens to be James Crawford's great nephew. Since then, I've kept in touch with this woman, and our relationship has provided me with not only a new friend, but also many interesting facts to add to my research files.

Recently, I received an invitation to attend a descendants' reunion in Carson City for another family whose ancestors I warmly described in my biography of James Crawford. Based on the extensive coverage I gave certain members of Carson City's Meder family in my book, the reunion organizer, Jane Meader (alternate spelling) Nye, from east-central New York, thought I might enjoy the gathering.
The word enjoy doesn't even begin to describe my feelings about this event held in Carson City on Saturday, September 20, 2008. From the minute I arrived at Carson's Plaza Hotel last Saturday morning at 8:55, until I headed back to Reno at 9:20 that same night, I was, as they say, "in my element."
First, came the warm and "huggy" greeting I received from Jane Meader Nye (no relation to Nevada's Governor Nye).
Then I made my way through the conference room filled with about 25 members of the Meader (or Meder) family, until I reached the front lecture table where I greeted my friend, and the morning's speaker, David Bugli. As David got his PowerPoint projector set up—with help from no less than three of us—I took pictures of Jane and other attendees and I began thumbing through the packet of information presented to me.

Jane called the meeting to order and then the family association's president, Steve Meader, from Massachusetts, welcomed everyone. Participants had come from Vermont to Alaska and from California to Maryland, all for the express purpose of nostalgically linking themselves to their ancestral past.
David Bugli, computer programmer by day, Carson City Symphony Orchestra conductor by night, and passionate Meder family researcher always, started his two-hour, fifteen-minute presentation on the Carson City Meders at 10:15. After displaying more than 55 slides and spewing forth—seemingly—55,000 words, I think everyone in attendance, would have agreed that David knows more about the Carson City Meders—John P. in particular—than anyone on earth. The Meaders in attendance, at least one of which is a direct descendent of this Carson City line of the family, couldn't have asked for a better introduction to their 19th century Nevada kin.

After a brief pause for lunch, David herded his eager group of Meader-family day-trippers onto Carson City's historic main street for a narrated tour through the downtown area. We posed for a group photo on the steps of the Capitol Building before filing
inside to view all the memorable exhibits. As we stood in the very legislative room where many prominent Nevada politicians from the Comstock-Lode era once made laws, I closed my eyes and let myself sentimentally step back in time—I could almost smell the cigar smoke.
We left the Capitol Building and followed David across the main street to the west side of historic Carson City.
There we toured many of the houses once occupied by notable Carsonites including, Orion Clemens (brother of Sam Clemens, a.k.a. Mark Twain), Dr. S. L. Lee, Abe Curry, and of course, members of the Meder family. A very friendly woman greeted us at Carson's St. Peter's Episcopal Church and provided us with many bits of interesting information about this 140-plus-year-old house of worship
From there we headed toward the old mint building (now the Nevada State Museum) and stopped along the way at our good friend Sue Ballew's White Cat Antiques shop. In her customary hospitable manner, Sue served cake and lemonade to everyone in the Meder family party, providing many of the members with a much-needed rest stop and energy charge.
As the afternoon slipped rapidly by, approximately half of us (those with energy remaining) decided we needed to visit Lone Mountain Cemetery where we could see Meder family gravestones. This old burial ground located at the northeast end of town, is a historian's research-rich delight. And for descendents of the Meders of Carson City, it suggests that this local clan reserved more plots for its deceased than any other family.
Our small fleet of car poolers pulled out of Lone Mountain Cemetery around 6:05 and arrived back at the hotel by 6:20, in time to enjoy the buffet-style dinner awaiting us. Lively conversations echoed from table to table as all guests reminisced about their
observations of this information-packed, visually invigorating day. The evening ended on a humorous note as the Meader Family Association's traditional limerick contest aroused the lighthearted poetic spirit in all of us. The poor judge faced a tough challenge, but eventually he selected the winning limerick, whose author received a small figurine of an old sailor, which had something to do with the word Peter—you had to be there.
As I headed home, I reflected on all of the day's events and concluded that there could not have been a more gratifying way for me to spend 12 hours.


I also realized that if as Jane Meader Nye informed me, her family had held their Carson City reunion five years ago as originally planned I wouldn't have attended, because my book on James Crawford hadn't yet been published. Therefore, Jane wouldn't have known me, and wouldn't have sent me an invitation.
As I said in the beginning, the craft of writing offers many rewards. My Saturday with the Meaders is one prime example.

Thanks to all who made this special event possible, but mostly, thanks to Jane Meader Nye for including me in on all the fun.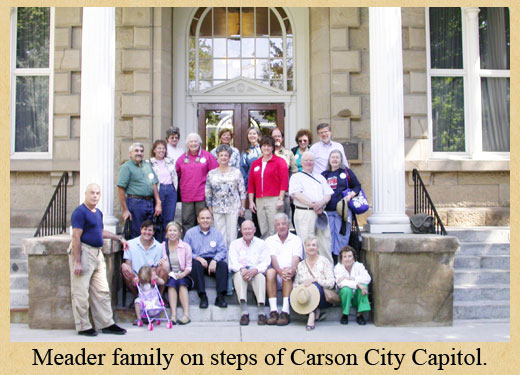 Rusty Goe
Southgate Coins
Reno, NV
(775) 322-4455
The Meader Family Reunion will be in Waterville, Maine on August 22, 2009. Email for details: JaneMeaderNye@nycap.rr.com